The Centers for Medicare & Medicaid Services has released eagerly anticipated draft guidance about co-location of hospitals with other hospitals or health facilities.  The draft guidance, released as a memorandum to State Survey Agency Directors on May 3, 2019, is available here.   The draft guidance offered clarity on the mechanics of co-location and provided co-located facilities with latitude for sharing common areas.  The draft guidance was on message with several of the key tenets CMS has articulated in sub-regulatory guidance in recent years, namely that: (1) co-located entities must demonstrate separate and independent compliance with Medicare's hospital conditions of participation ("CoP") and (2) clinical spaces should generally not be shared because of infection control, patient management, confidentiality, and quality and safety concerns.  Unfortunately, CMS' approach to co-location continues to create challenges in situations where integrated clinical space of co-located entities would best serve patients.  In addition, the guidance does not address grandfathering for pre-existing co-location arrangements.  Finally, CMS enhanced requirements for co-located hospitals without emergency departments, placing a heavier burden on those institutions to address emergencies common to their patient populations.  
CMS is accepting comments on the draft policies until July 2, 2019. 
Background
A hospital and another hospital or a hospital and another type of health care entity are "co-located" when they are located on the same campus or in the same building and share staff, space, and/or services.  Health care entities have historically looked to co-location arrangements to increase efficiencies and to maximize patient access to robust and specialized services.  In sub-regulatory guidance and through survey and accreditation activities and regulatory interpretation, CMS historically had placed restrictions on co-location arrangements, requiring that co-located facilities demonstrate a significant degree of separateness for clinical and non-clinical space and staff.  Over the last several years, CMS had expressed concern about co-located entities sharing waiting rooms or exam rooms, and patients traversing one health care entity's space to gain access to the co-located entity.  Although healthcare entities could sometimes work with CMS to gain approval for co-location arrangements that involved shared clinical space or traversing of clinical space to reach a co-located entity, in recent years, CMS's generally articulated position was to prohibit such arrangements.  The lack of official, formal guidance about co-location made it difficult for entities to determine what arrangements were acceptable and what arrangements could face enforcement actions.
Draft Guidance
Some Sharing of Resources Permitted but Sharing of Clinical Spaces is Limited
Under the draft guidance, CMS allows co-located entities to share public spaces and public paths of travel, such as public lobbies, waiting rooms/reception areas, restrooms, staff lounges, elevators, and main corridors through non-clinical areas.  Both co-located entities must be responsible for compliance with CoPs in any such shared spaces.  In addition, shared waiting rooms/reception areas must have separate check in areas and clear signage, and a main hospital corridor must have signage indicating which entity is performing the services in each department.
Further, the guidance states that a hospital must have "defined and distinct spaces of operation for which it maintains control at all times" and that clinical spaces should be distinct to protect patient privacy, confidentiality, and safety (given that co-located entities may have different infection control requirements and plans).  In order to ensure clinical areas are protected, CMS, in the draft guidance, prohibits travel through clinical space of one hospital to reach the co-located entity.  According to the draft guidance, it would not be permissible, for instance, for a patient to travel through an inpatient nursing unit or clinical hospital department such as an outpatient clinic or pharmacy, to reach the co-located entity.  On a practical level, this prohibition poses challenges for hospitals seeking to co-locate to enhance patient care.  By way of example, based on this draft guidance, a satellite rehabilitation unit located within a general acute care hospital may be challenged if the rehabilitation unit can only be accessed by traversing through a nursing unit of the host hospital. 
Separate Fulfillment of Hospital Conditions of Participation but Contracting for Services and Staff is Allowed
Consistent with CMS' existing, articulated approach to co-location, the draft guidance emphasizes that a hospital must independently meet the hospital CoPs, meaning that a hospital cannot rely on a co-located entity to fulfill any of the CoPs that apply to it.  The draft guidance does, however, allow a hospital to contract for services, such as laboratory, pharmacy, or housekeeping, from a co-located entity, when contracting for such services is otherwise permissible under the applicable CoPs.  In addition, pursuant to the draft guidance, co-located entities may share staff through a contractual arrangement, so long as there are clear lines of authority and accountability and the staff are only working for one entity at a time during a specific shift.  This means that contracted individuals must be trained on relevant hospital policies and procedures, the same as employees of the hospital would be.  Further, staff cannot float between two co-located entities during the same shift or be on-call at one entity while simultaneously working at another.
Existing Arrangements
The draft guidance fails to address directly existing co-location arrangements that may not be compliant with the new guidance, even in instances where CMS was aware of the existing arrangement.  Given that the draft guidance provides specific instruction for surveyors, entities with non-compliant arrangements could be required to restructure the co-location or risk both entities receiving citations.  Entities with existing arrangements that may not comply with the new guidance should consider submitting comments to address these pre-existing arrangements or grandfathering more generally.
Emergency Services
CMS also strengthened requirements for addressing patients' emergency care at co-located hospitals without emergency departments.  CMS added requirements that such hospitals anticipate the emergency scenarios typical of their patient population and ensure that policies, procedures, and staffing allow the hospital to provide "safe and adequate initial" emergency treatment.  The draft guidance noted that hospitals co-located with another hospital with an emergency department may not simply arrange to have the co-located hospital respond to patient emergencies.  This can pose a challenge for hospitals with limited resources that may find it challenging to maintain a code team, for instance.  That said, the draft guidance acknowledged that appraisal and initial treatment may require a hospital to transfer a patient to another entity for continuation of care. 
Survey Procedures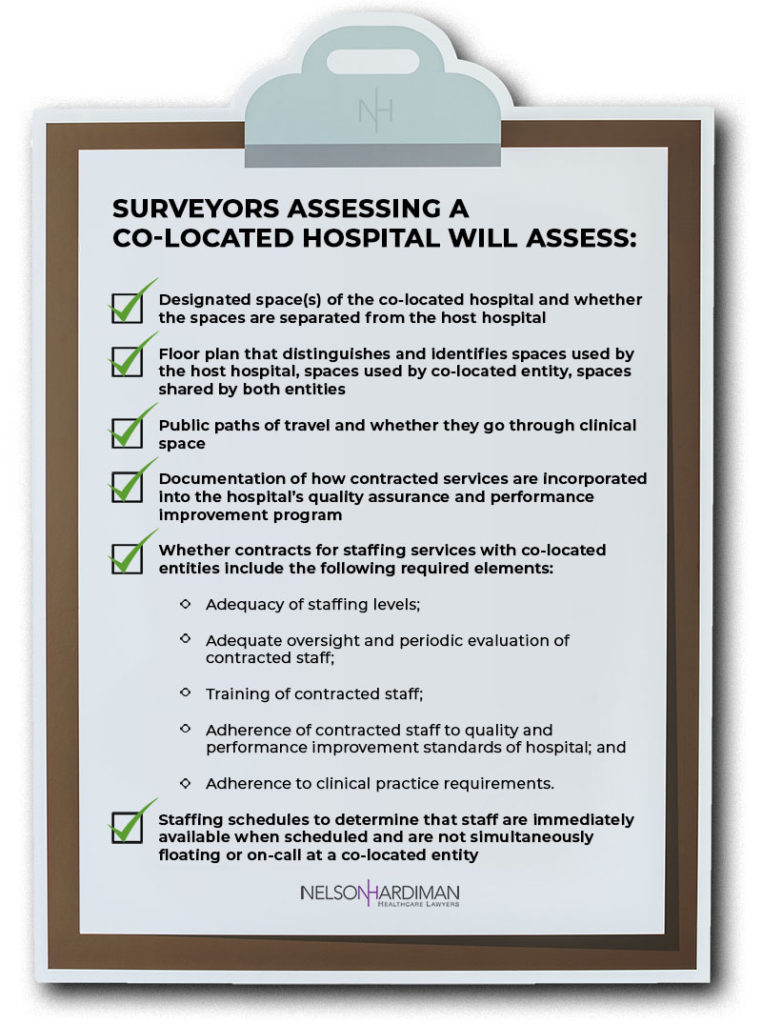 If you have current co-located hospital arrangements or are considering hospital co-location in the future, you should review the draft guidance carefully and avail your organization of the opportunity to submit comments.  CMS is accepting comments on the draft guidance until July 2, 2019. 
If you would like help submitting comments or would like more information regarding this client alert, please contact:
Hope Levy-Biehl
(310) 651-9602
hlevybiehl@nelsonhardiman.com
Christine Parkins Johnson
(310) 432-8485
cjohnson@nelsonhardiman.com
---
Posted on May 30, 2019